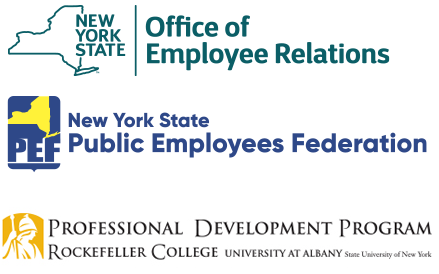 The Public Service Workshops Program is funded through the negotiated Agreement between the State of New York and the Public Employees Federation, AFL-CIO, and through additional Management/Confidential funds. The Program is administered by the Professional Development Program of the Nelson A. Rockefeller College of Public Affairs at the University at Albany, under contract with the Office of Employee Relations.
A list of Frequently Asked Questions about PSWP can be seen at the OER website.
Who We Serve
PSWP provides training and professional development programs for PEF-represented and Management/Confidential employees of New York State.
Our Delivery Methods
PSWP training programs can be delivered as:
Classroom training
Online courses
Videoconference workshops
CD-ROM training
Comprehensive Needs Assessment
PSWP conducts on-going needs assessment including: focus groups; contact with state agency training liaisons and subject matter experts; and environmental scanning and research on seven broad occupational groups:
Accounting & Auditing
Education & Research
Engineering, Transportation, & Environment
Health Care
Information Technology
Law/Criminal Justice
Social Work & Counseling